While free travel apps like Uber, TripAdvisor, Google Maps and Google Translate have become smartphone staples, there are a plethora of other travel apps out there for meeting people, organising itineraries, discovering new experiences, booking transport and even finding the closest loo!
Without further ado, here are the ten best free travel apps of 2017:
1. Airbnb
Founded in 2008, Airbnb is a travel app primarily used to book unique accommodation (they have over 1400 castles) around the world. You can book an entire place or a private or shared room in over 3 million homes in 191 countries.
Recently, Airbnb has diversified to offer long-term rentals with Airbnb Sublets and is expanding on their array of experiences led by local experts. You can hunt for truffles in a Tuscan forest, bike through a Bangkok oasis or explore Seoul's underground music scene. Additionally, you can discover a city's best bars, restaurants and experiences through guides written by notable locals, celebrities and hosts.
If you're using Airbnb for the first time, get $50 for free here.
Airbnb is available on iOS and Android.
2. KAYAK
KAYAK describes themselves as a "tech company focused on making online travel better" and I couldn't agree more. While it's primarily used to search for and book the cheapest flights, you can now use it to book accommodation and rental cars too.
Not only can you set up Price Alerts to let you know when prices have increased or decreased for certain flights, but you can also use KAYAK Trips to plan and manage your entire trip.
Another KAYAK feature that I love is Explore. All you have to do is enter an airport, date range and budget and KAYAK will find the cheapest flights worldwide for you. Better yet, all the prices are conveniently plotted on an interactive world map.
KAYAK is available on iOS and Android.
3. Mashay
Launched in June 2017, Mashay is the newest travel app on this list and a force to be reckoned with. While it's similar to TripAdvisor in the sense that it helps travellers and locals discover new experiences, Mashay focuses on underground experiences like art and culture tours, wine tasting, gin blending, axe-throwing and canyoning. You can easily organise a group of friends or use the "MashUp" feature to expand your social circle–think Tinder but for groups of friends!
All you have to do is create a group in Mashay then choose from a list of curated experiences before chatting and scheduling experiences straight from within the app. It's as easy as that! If you're feeling adventurous, you can swipe and connect with other likeminded groups that are interested in the same experiences too.
Mashay is currently available in Sydney on iOS and Android and will soon be available Australia-wide.
4. XE Currency
When you're travelling, do you ever find yourself struggling to do currency conversions in your head?
With the XE Currency app, you can easily calculate prices on your smartphone or tablet, check live exchange rates for every world currency, set XE Rate Alerts to monitor your favourite currencies and view historical charts. You can even save the most recent exchange rates so you can access them when your device is offline!
XE Currency is available on iOS and Android.
5. Google Trips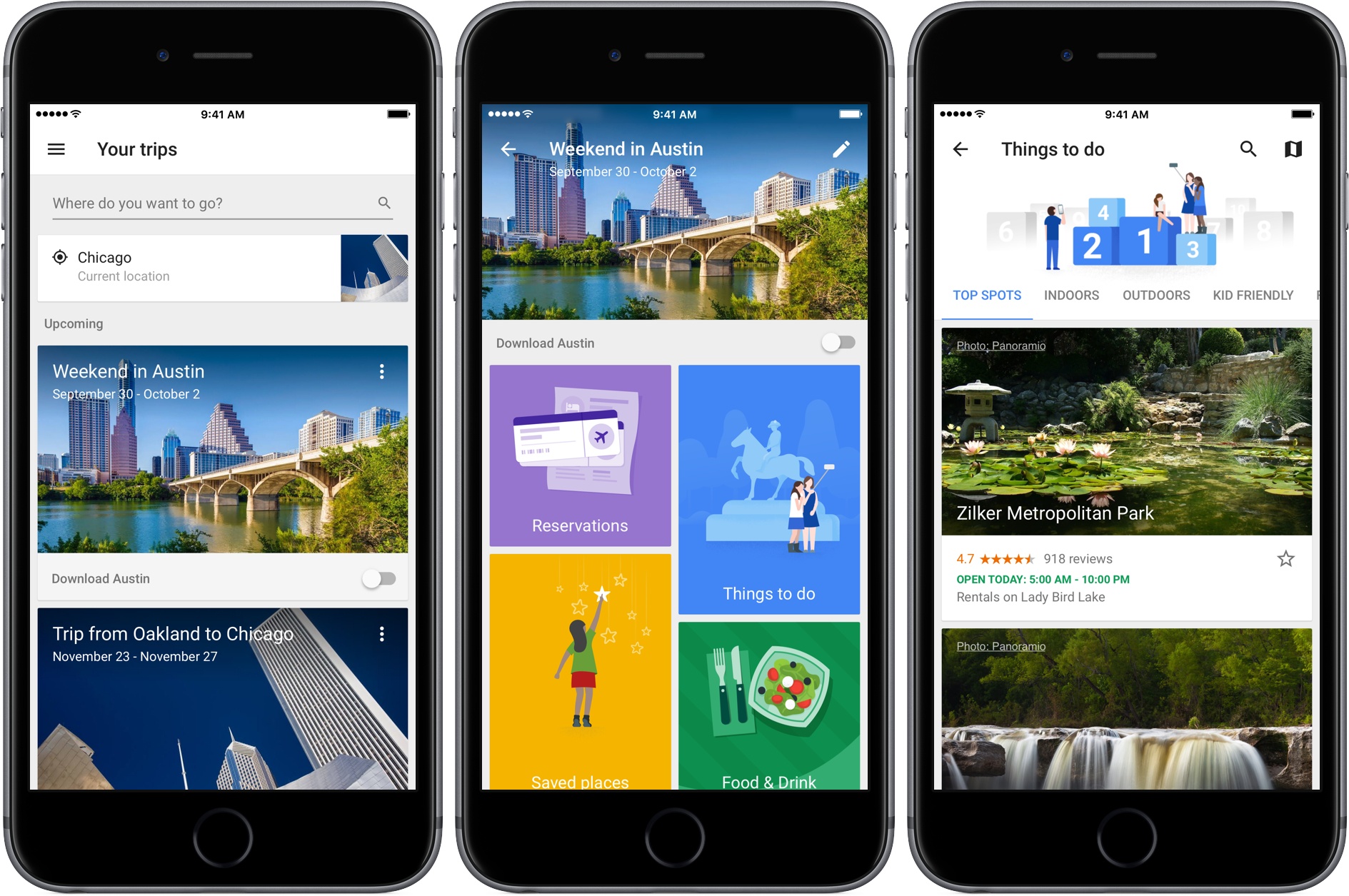 Released in late 2016, Google Trips offers stress-free travel planning by organising your trips into one succinct timeline. Within each trip, there are reservations, things to do, saved places, day plans, food and drink, getting around and need to know guides and suggestions. These are displayed in colourful tiles and you can even download entire guides for easy offline access!
One of the best features of Google Trips is automatic trip organisation. The app will automatically gather travel reservations (e.g. flight information and hotel bookings) from Gmail and organise them into individual trips for you.
Google Trips is available on iOS and Android.
6. PackPoint
Passport, check. Credit card, check. Underwear, check. Pants…uh-oh! Don't be caught without your pants by using PackPoint.
As its name suggests, PackPoint is a handy packing app that creates a checklist of everything you need to pack based on the destination's weather forecast and selected activities. For example, you might be camping, going to the beach or attending a fancy dinner. PackPoint will then curate a list of items you should pack based on these activities in addition to general travel essentials. You can then add or remove items as necessary and even share your lists with others!
PackPoint is available on iOS and Android.
7. TunnelBear
TunnelBear is a simple VPN travel app that unblocks your favourite blocked or censored websites (e.g. Facebook in China) and allows you to safely access your email and browse the internet even when you're using public Wi-Fi. The app uses powerful AES 256-bit encryption to shield your physical location (IP address) from websites, hackers and advertisers so that your personal data is always secure.
Currently, you can enjoy browsing from anywhere you are in the world to one of these 20 countries.
TunnelBear is available on iOS and Android.
8. Flush Toilet Finder
Busting for the loo? Not sure how to ask where the toilet is in the local language? Fear not, Flush Toilet Finder has got you covered!
Flush Toilet Finder is the quickest and easiest way to find a public bathroom. Simply open the app and you'll see a map with the closest toilets to you. You can also rate, report or add toilets and search through over 100,000 toilets to see which ones require a key, have disabled access or require a fee for usage. It even works when you have no internet connection!
Flush Toilet Finder is available on iOS and Android.
9. Splitwise
Splitwise is one of the best free travel apps for splitting expenses with friends and family. You can create a group for your trip and organise all shared expenses and IOUs in one place. This way, everyone can see who they owe and ensures everyone gets paid back.
The best thing? Splitwise does the math for you and keeps a running total over time. This means you can pay each other back in one big lump sum and "Settle Up" rather than in a lot of small payments.
Additionally, there's a Simplify Debts feature that reduces the number of payments that need to be made within a group. For example, if Anna owes Ben $20 but Ben owes Cathy $20, Anna would simply pay Cathy $20 so that it's one payment rather than two. Nifty, right?
Splitwise is available on iOS and Android.
10. Culture Trip
Released in September 2016, Culture Trip is an easy-to-use travel app that "lets you explore the best of local culture". You can search for exciting things to see and do in over 300 locations around the world, browse through lesser known local recommendations and discover more about a destination through unique and informative guides and tips written by locals.
Meanwhile, the Explore feature of Culture Trip allows you to curate your own recommendations based on your personal preferences, location and interests. From rustic bookstores in England to fun bars in Mexico to the best markets in Thailand, there's something for everyone!
Culture Trip is available on iOS and Android.
If you enjoyed this blog post on the Best Free Travel Apps of 2017, be sure to leave a comment below to let me know.
Thanks for reading! Want more? Check out How To Go To Singapore (And End Up in Melbourne Instead) and Top 10 Short Day Trips From Sydney. Be sue to follow me on Facebook and Instagram too to keep up to date with my misadventures!