We all know Sydney has a lot to offer from the Opera House to hole in the wall bars, but sometimes we all need a short day trip from Sydney to escape the concrete jungle. You can find an oasis of possibilities within a 1-3 hour drive from the city.
Here are my top 10 short day trips from Sydney. Are you ready to escape?
1. Royal National Park
Located approximately 1 hour 10 minutes drive from Sydney CBD, you can also take a ferry from Cronulla to Bundeena or take a train to Otford Station.
The Royal National Park has a lot to offer for families, couples and friends alike. Personally, it's one of my favourites on this list, having been there countless times on day trips and having done the 2D1N Coast Track from Bundeena to Otford.
One of the most popular locations in the National Park is Wedding Cake Rock for its perfectly white, chiselled appearance. But the rock is now fenced off due to instability and those who decide to climb the fence now face potential $300 fines. But it's still worth a visit to see one of Mother Nature's crazy creations.
Another hot spot in the Park is Wattamolla. Perfect for those hot summer days, you can cliff jump, have a picnic or BBQ, chill out in the lagoon or hike the surrounds. One of my favourite hikes is the 3 hour Wattamolla to Eagle Rock Lookout Walk.
Pro tip: There's a waterfall if you walk a little bit further from Eagle Rock!
2. Kiama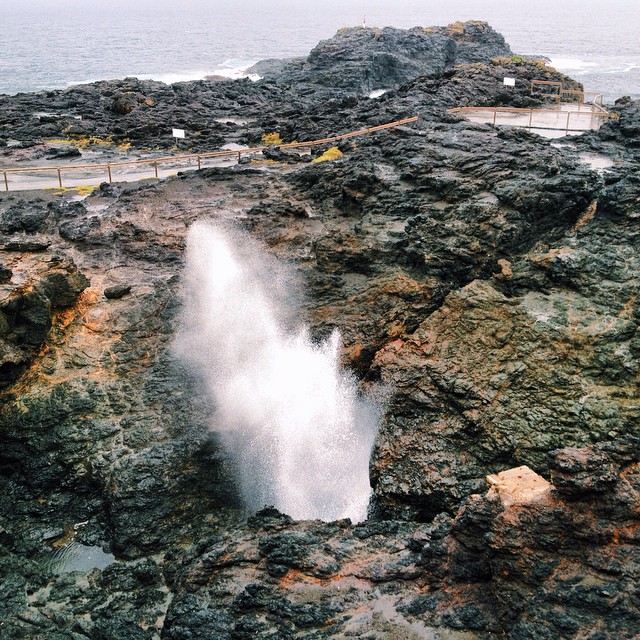 Located 2 hours 20 minutes south of Sydney CBD, you can easily drive there or take public transport.
Kiama is a quiet, seaside town brimming with possibilities. Explore the coast via the stunning Kiama Coastal Walk and drink in sights like the Minnamura River, Cathedral Rocks and Bombo Headland. When you get peckish, grub on some fish and chips at Saltwater then watch the Kiama Blowhole erupt (pictured above) and marvel at the Lighthouse perched on Blowhole Point.
There are also some pristine beaches nearby so if you're planning to take a dip at Seven Mile Beach, be sure to bring your swimmers!
Pro tip: Cathedral Rocks and Bombo Headland are particularly beautiful during sunrise and sunset for photography.
3. Belmore Falls
Located approximately 2 hours from Sydney CBD. The road to Hindmarsh Lookout car park is a narrow dirt road so be extra careful!
Belmore Falls is located in Morton National Park and offers a steep but short hike (30 minutes to 1 hour return) to the waterfall above. From Hindmarsh Lookout car park, the start of the trail can be a bit tricky to find. Most likely, you'll have to jump the fence to reach the trailhead. It's a worn in trail with orange/coloured markers tied to branches, so if it doesn't look like a clear cut trail, you've probably gone the wrong way!
On the way down, you're offered sweeping views of the valley. You'll be able to hear the falls after 10 or so minutes of hiking. The water at Belmore Falls is generally quite cold but you can cliff jump into the swimming hole if you don't mind perky nipples.
Pro tip: The waterfall is fullest when there's rain. However the track is extra slippery during wet weather so be careful if you're visiting on a rainy day.
4. Blue Mountains National Park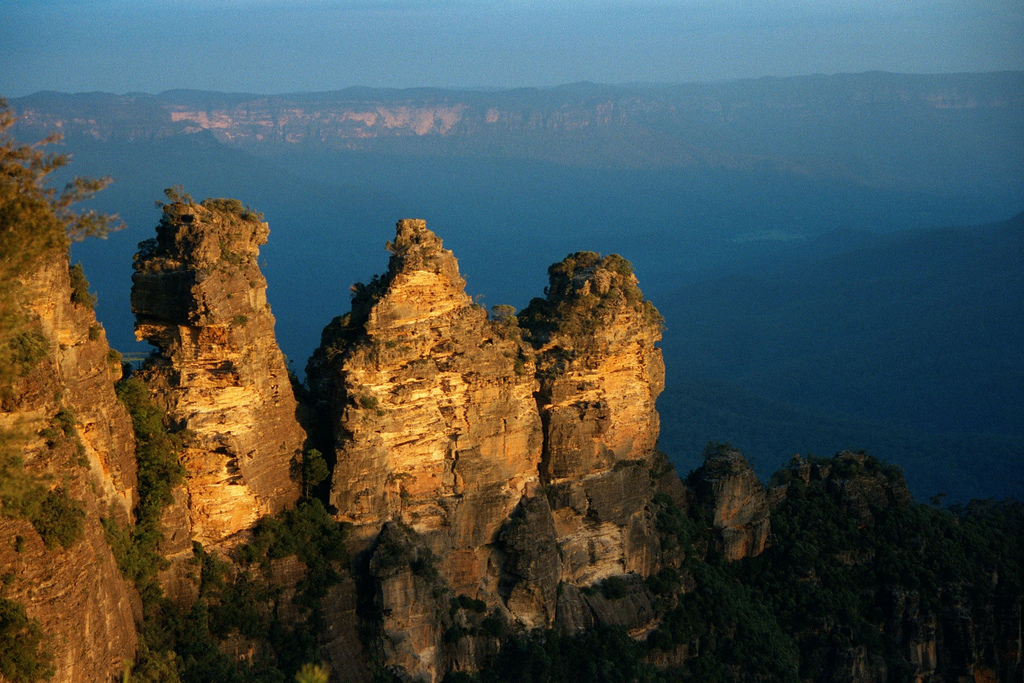 Located 2 hours from Sydney CBD. There are multiple points of interest in Blue Mountains National Park. For more information, click here.
What can I say, Blue Mountains National Park has been one of my most frequent short day trips from Sydney. I'm there at least once a month and there are always trails to hike, native animals and waterfalls to wonder at and activities to do.
One of the most popular points of interest at the World Heritage-listed National Park is Echo Point lookout. From there, you can visit the Visitor Centre to pick up some maps and souvenirs, see the stunning sandstone-weathered Three Sisters, bask in a beautiful sunset or start the Three Sisters Walk.
If you're in the National Park, don't forget to check out Wentworth Falls. The below photo is taken at Weeping Rock, a short hike (45 minute return) from Wentworth Falls picnic area.
Pro tip: Keep your eyes out for lyrebirds!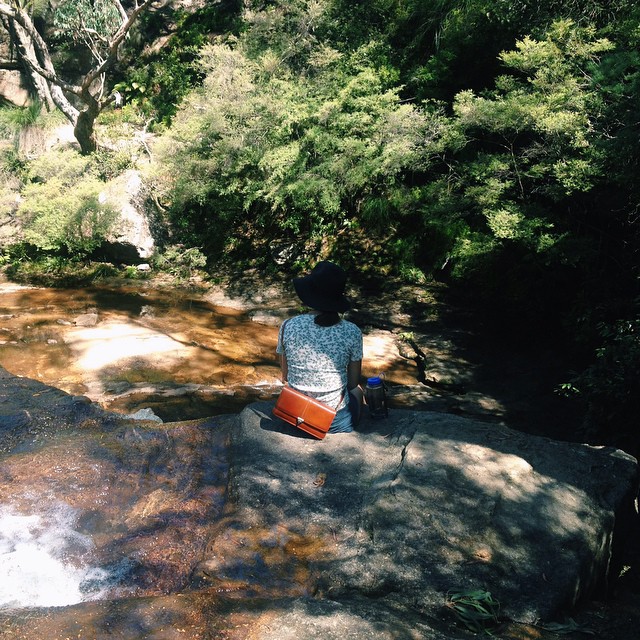 5. Helensburgh Tunnel
Located 1 hour 15 minutes south of Sydney CBD, the abandoned Metropolitan Tunnel at Old Helensburgh Station is now inhabited by glow worms!
If you're looking for a different kind of adventure, you're in for a treat! Helensburgh Tunnel has an eerie and interesting history filled with stories of hauntings and mushroom cultivation. Now people predominantly visit for photography or simply to see the glow worms light up the tunnel.
Pro tip: If you're feeling extra adventurous, head over to the tunnel when it's raining with an inflatable kayak or canoe to paddle through the tunnel. Otherwise, bring gumboots just in case as the tunnel can get quite muddy.
6. Jervis Bay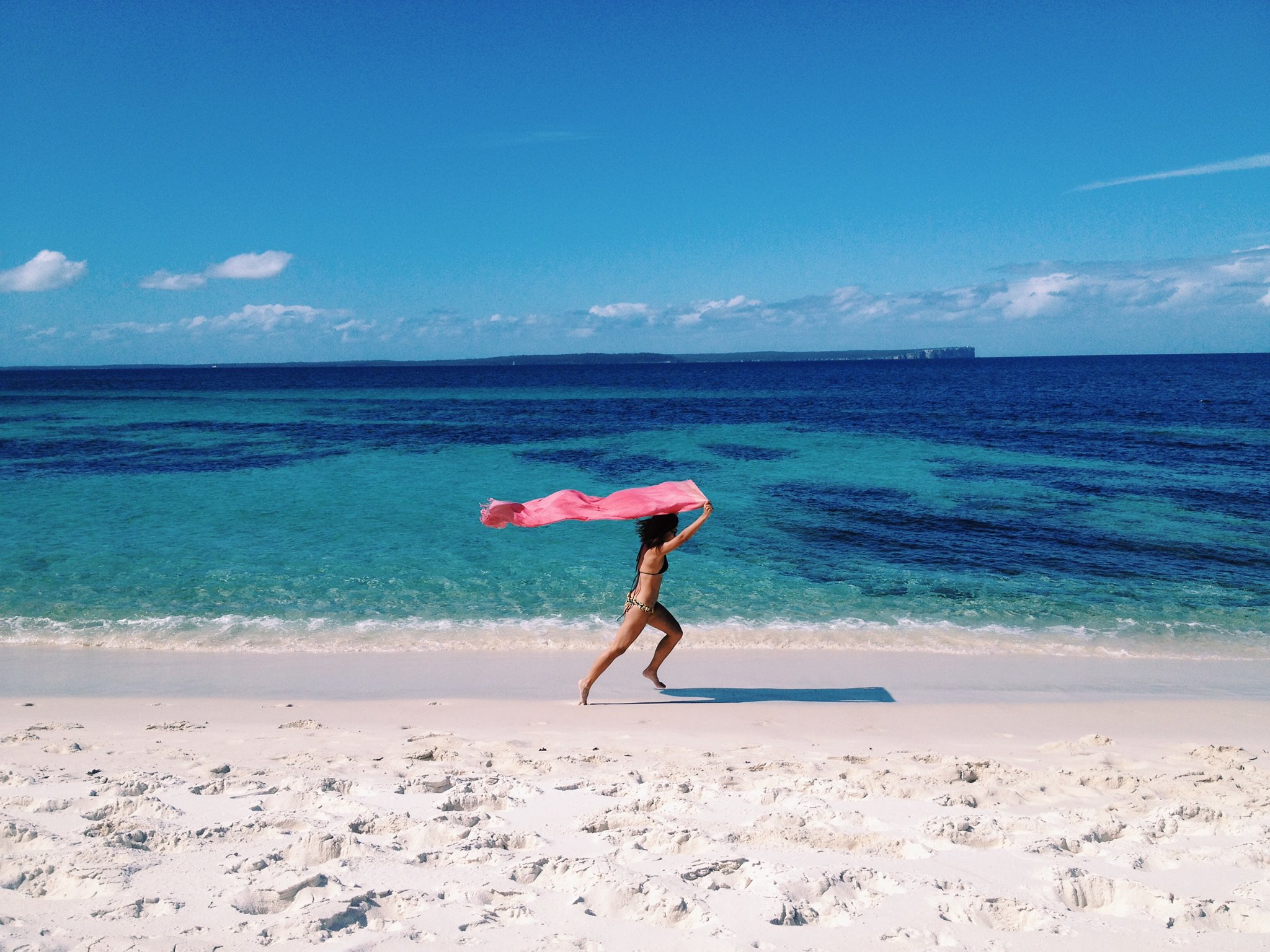 Located approximately 3 hours south of Sydney CBD, you'll find a paradise of fine, white sand and the clearest water in New South Wales (in my opinion).
Jervis Bay is a beach and nature lover's dream destination with accommodation to suit all budgets. There are a plethora of beaches and national parks to choose from but my favourites are Hyams Beach (pictured above), Cave Beach and Bherwerre Beach in Booderee National Park.
Pro tip: When you're done with being outdoors, pop into town to experience the historical side of Jervis Bay at Huskisson Pictures. The charming cinema has a vintage feel to it and with movies at $10, why the hell not?
7. Stockton Sand Dunes, Anna Bay
Located approximately 2.5 hours from Sydney CBD, you'll find yourself in Dubai. Just kidding, but you might as well be in a different country…
Stockton Sand Dunes is located at Stockton Beach in Anna Bay, Port Stephens. The dunes are the largest moving dunes in the Southern Hemisphere and sunrises and sunsets are particularly ethereal from the dunes.
For adventure lovers, there are plenty of activities to do on the dunes from safaris and sandboarding to camel-riding and quad biking. Otherwise, you can opt for water sports and activities at Stockton Beach such as surfing, fishing, kiteboarding and many more.
Pro tip: If you're into photography, be sure to check out Tin City and Sygna Wreck too.
8. Long Jetty, The Entrance
Located 1.5 hours north of Sydney CBD, Long Jetty is aptly named for three extremely long jetties that extend into Tuggerah Lake.
Built in 1915, Long Jetty is an iconic Central Coast landmark with the longest of the jetties spanning 351 metres into Tuggerah Lake. For over 100 years, it's been a favourite amongst locals and tourists as the foreshore of the lake has BBQs, picnic areas, several playgrounds and bike and paddle boat rental. During summer, you'll see lots of people swimming and jumping off the jetties too!
Pro tip: Be sure to stay for the sunset – it's a stunner!
9. Harper's Mansion, Berrima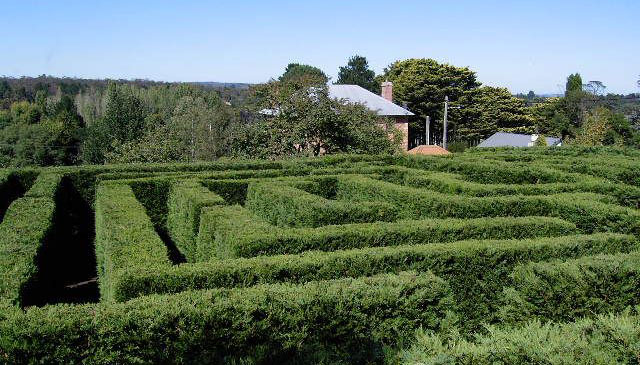 Located 1 hour 46 minutes from Sydney CBD, in the Southern Highlands of New South Wales.
Harper's Mansion is located high on a hill, overlooking historical Berrima. The mansion was built in the 1830s and is open on Saturdays, Sundays and public holidays from 10:30am to 4pm. It's not your average day trip from Sydney but if you're a lover of history and quaint architecture like me, you'll thoroughly enjoy Harper's Mansion.
Inside the mansion, you'll find furniture, decor and fashion from the 1800s and a cased copy of the Sydney Morning Herald (circa 1835) to spark your imagination! After touring the mansion, be sure to take a peaceful stroll in the beautiful gardens and try to find the centre of the maze!
Pro tip: Before visiting Harper's Mansion, head over to Stones Patisserie for some good coffee, hearty pies and delectable pastries!
10. Mermaid Pools, Tahmoor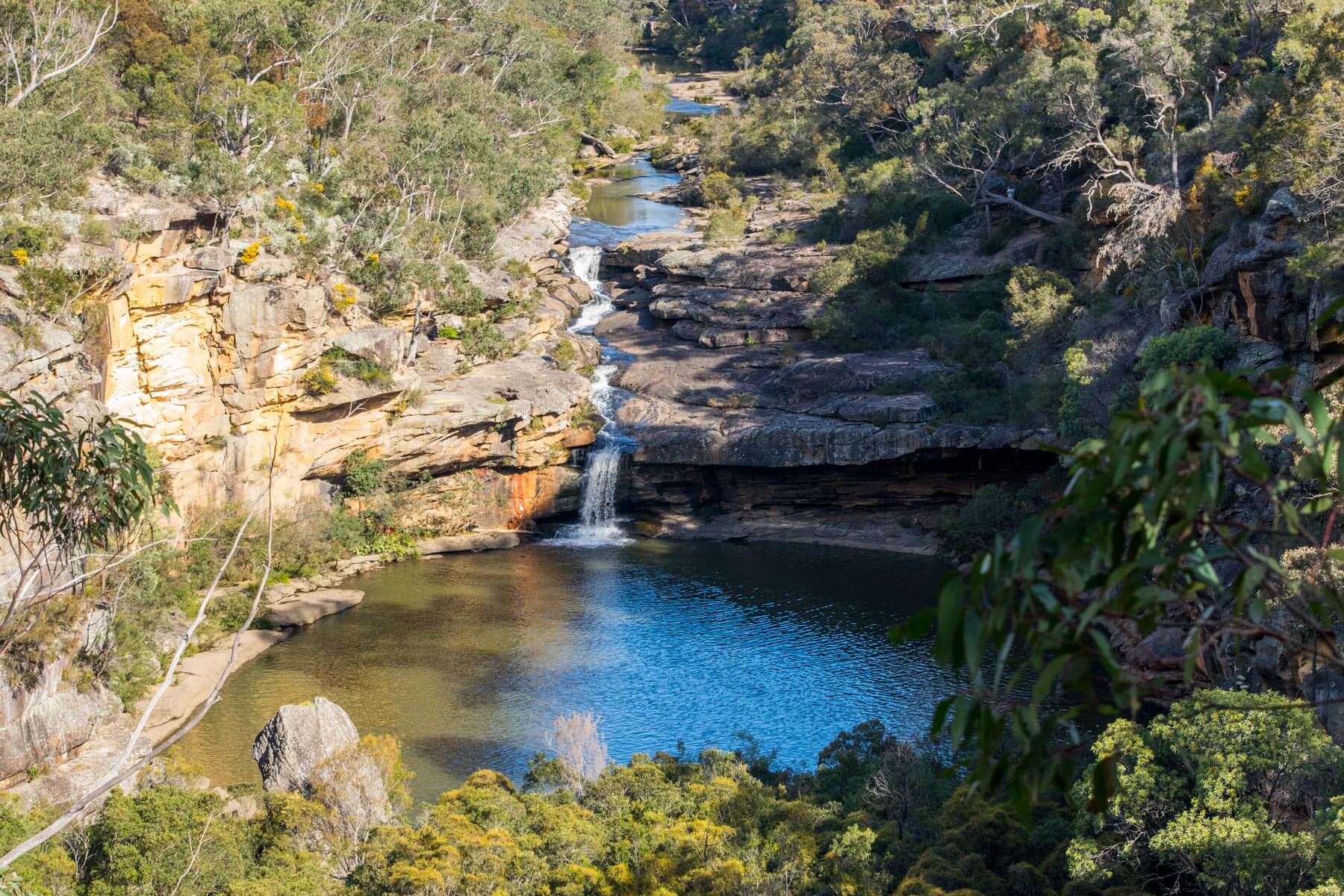 Located 1.5 hours from Sydney CBD. Turn right off Rockford Road from Tahmoor onto Charlie's Point Road. You'll find a car park there and a dirt trail that will lead you to the beginning of the hike (spot the bridge!).
Mermaids are elusive, but Mermaid Pools isn't so treat yourself to a day of bushwalking, cliff jumping, rope swinging and waterhole frolicking. It takes about 30 minutes to walk to Mermaid Pools from the car park; be sure to stick to the track and walk all the way to the end!
Once you get to the end, you have to cliff jump a minimum of 15 metres to enter Mermaid Pools. If you're feeling extra ballsy, you can attempt the 30 metre jump but I would advise against that for safety reasons. The impact of the water from such a height can be quite painful…not to mention I've seen someone almost miss the water *cue internal scream*.
After all the water activities, you'll have to climb back up the same cliff with the help of a rope. It's not too difficult if you have a medium level of fitness like me, but definitely suss it out before jumping!
If you're not into cliff jumping, there are plenty of other waterholes, mini waterfalls and picnic spots along the way. There's even a rope swing about 5 minutes into the bushwalk!
Pro tip: Bring swimmers, a packed lunch and sunscreen to make it a day!
Thanks for reading this post on the top 10 short day trips from Sydney! Want more? Follow my misadventures on Facebook and Instagram too!
Did you enjoy this post on the top 10 short day trips from Sydney? Let me know in the comments below.