Two weekends ago, it was the annual Grafton Jacaranda Festival. We were driving from Sydney to Brisbane for the opening of the Yayoi Kusama exhibition at GOMA when we stumbled upon suburban streets lined with stunning purple jacaranda trees.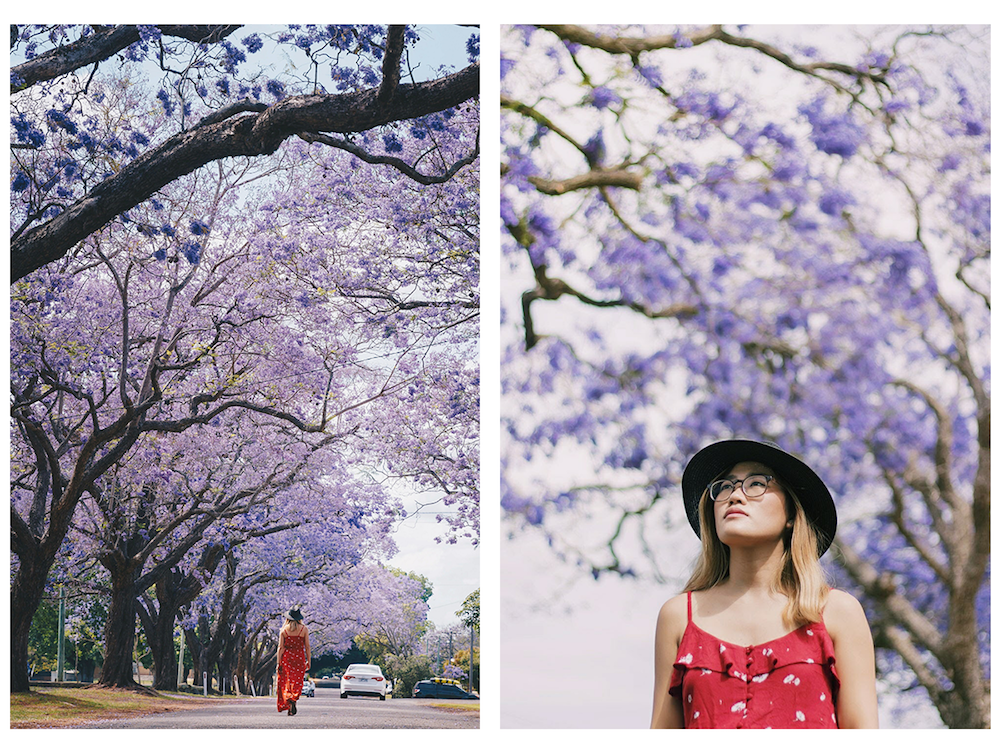 But that's not why you're here. After all, Grafton is a 7 hour drive from Sydney (yes, my friend and Kent are insane in the membrane). You're probably here to find out where to marvel at these purple trees a little closer to home.
Without further ado, here are my top three places to find jacarandas in Sydney (and no, McDougall Street in Kirribilli is not on the list):
1. Circular Quay
You'll be able to see the purple jacaranda trees from Circular Quay station. Once you get off the station, walk towards the Museum of Contemporary Art. To the left of the museum, there's a seating area with scatterings of purple petals on the ground and jacaranda trees looming overhead.
Nothing screams jacarandas in Sydney more than the trees in full bloom against a backdrop of the Opera House and the Sydney Harbour Bridge!
2. The Royal Botanic Garden
Did you know that Sydney's first jacaranda was planted in the Royal Botanic Garden in the late 1850s?
The Royal Botanic Garden is a short walk from the Opera House and there are a fair few jacaranda trees dotted along the walking trails. Be sure to pack a picnic and make it a day!
3. The University of Sydney
Legend has it that the giant jacaranda tree at the south-eastern quadrangle of the University of Sydney is a clone of the original jacaranda tree that has since fallen. R.I.P. you beautiful purple soul.
If you're in the neighbourhood, be sure to take a stroll through Glebe and Erskineville too. You'll be surprised by how many jacaranda trees there are!
Thanks for reading and happy jacaranda chasing. If you enjoyed this blog post, you might also be interested in Best Long Weekend Getaways from Sydney and Top 10 Short Day Trips From Sydney.
What are your favourite places to find jacarandas in Sydney? Let me know in the comments below.